Introduction
This page includes a few links towards websites associated with my professional background.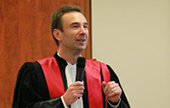 Internal Resources
If you click on "On Line CV" on the upper page menu, you will be able to access detailed entries. If you are lost in the website, see the site map.
News
The French version of this website is now available at pascalcorbel.fr.