Introduction
An important part of a researcher's job is to train for research through research. This is where the supervision of doctoral theses comes in. This section lists the theses I have supervised or been a member of the jury for, as well as for accreditations to supervise research.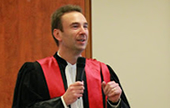 Inernal Resources
Doctoral theses supervision is strongly related with the supervisor's research topics.
Coordination and jurys of "habilitations à diriger des recherches"
---
Coordination of accreditations to supervise research
Defended habilitations à diriger des recherches (accreditations to supervise research)
(2) F. Appio, Four keys to smart cities
Defended in July 2021
Jury: C. Hussler (rapporteur and president), P. Le Masson, E. Reynaud (rapporteurs), L. Striukova (examiner), P. Corbel (coordinator)
(1) R. Maniak « Shifting scopes – L'évolution des périmètres de management de l'innovation »
Defended in November 2018
Jury: L. Mitkova (president), S. Charreire-Petit, G. Garel, H.G. Gemünden (rapporteurs), C. Midler (examiner), P. Corbel (coordinator)
Research accreditations jurys
Accreditation to supervise research jurys
(6) A. Courie Lemeur, Le management des dilemmes consubstantiels à l'ouverture – Le cas des collaborations inter-organisationnelles dans le champ de la santé en France, November 2022
Role: rapporteur
Place: University of Versailles Saint-Quentin-en-Yvelines (UVSQ)
Coordinator: B. Szostak
(5) L. Castro Gonçalves, Dynamiques d'innovation collaborative : regards pluriels sur les formes relationnelles au-delà des frontières dans les contextes émergents, November 2021
Role: rapporteur
Place: Université d'Evry Val d'Essonne
Coordinator: L. Mitkova
(4) F. Appio, Four keys to smart cities, July 2021
Role: coordinator
Place: Université Paris-Saclay

(3) R. Maniak, Shifting scopes – L'évolution des périmètres de management de l'innovation, November 2018
Role: coordinator
Place: Paris-Sud University

(2) A. Boutinot, Trajectoires dans les industries créatives : miroir des audiences et approche multiniveau, October 2018
Role: jury president
Place: University of Lorraine
Coordinator: H. Delacour
(1) J. Cusin, Le management individuel et organisationnel des erreurs et des échecs, June 2017
Rôle : examiner
Place: Paris-Sud University
Coordinator: S. Charreire-Petit
PhD supervision and jurys
---
Doctoral theses supervision
Defended doctoral theses
(8) M. El Bekkari, Le management du risque de contrefaçon pour les PME industrielles internationalisées – Une étude exploratoire
Defended in October 2022, duration of the co-supervision: 34 months, the university does not award distinctions for PhDs
Jury: T. Burger Helmchen (president), C. Ayerbe, P. Véry (rapporteurs), S. Reboud, M. Séville (examiners), P. Corbel, C. Mercier Suissa (supervisors)
(7) A. Santé, Formation (et déformation) de la stratégie dans les organisations publiques de recherche : le rôle du cadre intermédiaire scientifique
Defended in July 2020, duration: 55 months, the university does not award distinctions for PhDs
Jury: C. Belmondo (président), I. Bouty, C. Torset (rapporteurs), J.P. Denis, V. Schaeffer (examiners), P. Corbel (supervisor)
(6) A. El Guellaa, Analyse multidimensionnelle des facteurs d'échec du processus de gestion des connaissances dans une entreprise : cas d'une ESN (SSII)
Defended in December 2018, duration: 97 months, the university does not award distinctions for PhDs
Jury: A. Bounfour (president), C. Belmondo, P.J. Barlatier (rapporteurs), P. Corbel (supervisor)

(5) A. Buton, L'articulation entre modèle d'affaires et stratégies face à un changement technologique majeur – Cas des acteurs du livre numérique en France
Defended in July 2017, duration: 58 months, the university does not award distinctions for PhDs
Jury: P. Monin (president), C. Ayerbe, B. Demil (rapporteurs), J.P. Denis, J.Y. Mollier (examiners), P. Corbel (supervisor)
(4) Y. Rakotondravoavy, Convergences et tensions autour d'un artefact cognitif : étude longitudinale de l'usage du business model dans les partenariats public – privé de R&D
Defended in September 2016, duration: 94 months, the university does not award distinctions for PhDs
Jury: S. Charreire-Petit (president), C. Ayerbe, J.P. Bréchet (rapporteurs), R. Bocquet (examiner), P. Corbel (supervisor)

(3) M.T. Kadji NGassam, Pérennité des business models des projets collaboratifs et communautaires ouverts : cas des projets et communautés open source/logiciel libre
Defended in June 2015, duration: 55 months, mention : first class honours with distinction
Jury: Y. Pesqueux (president), A. Tellier (rapporteur), G. Rouet (examiner), P. Corbel (supervisor) – 2nd rapporteur: S. Mignon

(2) S. MBongui-Kialo, Le brevet comme input dans les processus d'innovation et de conception de nouveaux produits : une étude exploratoire
Defended in November 2013, duration: 71 months, first class honours
Jury: T. Loilier (president), L. Mitkova (rapporteur), M.N. Sicard, A. Tellier (examiners) – 2nd rapporteur: C. Le Bas

(1) J. Boumrar, Les spécificités des coopérations et de leurs modalités de mise en œuvre dans le cas de la construction et de la gestion simultanées d'un risque hybride et potentiel : une étude empirique exploratoire sur le terrorisme biologique
Defended in June 2013, duration: 67 months, first class honours
Jury: J.-P. Denis (president), M. Barbier, P. Véry (rapporteurs), A. Bartoli, R. Laufer (examiners), F. Salicis (guest), P. Corbel (supervisor)

Doctoral theses in progress
(1) A. Amri, Management des experts et des expertises dans une organisation R&D mouvante et complexe : élaborer une ingénierie des activités d'appui nécessaires aux individus, réseaux transverses, projets et organisations, started in November 2020

PhD jurys
Doctoral theses jurys
(27) M. El Bekkari, Le management du risque de contrefaçon pour les PME industrielles internationalisées – Une étude exploratoire, October 2022
Role: co-supervisor (with C. Mercier-Suissa)
Place: Université Jean Moulin Lyon 3
(26) R. Chabaane, La co-création de valeur dans le service public : Un regard de côté via l'étude de la mise en œuvre du budget participatif dans les municipalités en Tunisie, June 2022
Role: jury president
Place: Université of Lille
Supervisors: I. Collin-Lachaud, I. Mzid-Ben Amar, P. Véry
(25)
P. Brunner
,
La mobilisation des ressources par les étudiants entrepreneurs au sein des écosystèmes entrepreneuriaux : une approche par le capital humain et le capital social,
November 2021
Role: examiner
Place: University of Strasbourg
Supervisor: V. Schaeffer
(24) A. Santé, Formation (et déformation) de la stratégie dans les organisations publiques de recherche : le rôle du cadre intermédiaire scientifique, July 2020
Role: supervisor
Place: Université Paris-Saclay
(23) L. Kreiling, Intermediaires in Innovation Ecosystems – Delineating Practices and Context of European Transfer Organisations, March 2020
Role: jury president
Place: Université Paris-Saclay
Supervisor: A. Bounfour
(22) A. Charleux, L'open source entre concurrents - Approche de la création et de l'appropriation de valeurs par les business models et la coopétition, December 2019
Role: rapporteur
Place: University of Montpellier
Supervisor: A. Mione
(21) D. Girier Delorme, Pour une relecture des processus d'inscription d'un nouvel acteur universitaire dans son environnement – Une approche multi-niveaux de la valorisation de la recherche, du business model à l'écosystème, December 2019
Role: rapporteur
Place: University of Nantes
Supervisors: N. Schieb-Bienfait, J.C. Boldrini
(20) M.A.D. Guidi, Exploring the creation of values through waste management in poor communities as an alternative to waste externalization: Participative research examples showing collaborative learning in India, Bolivia and Brazil, November 2019
Role: examiner
Place: Université Paris-Saclay / IMT Business School
Supervisor: J.L. Moriceau
(19) Z. Zhong, Comprendre l'appropriation des objets connectés grand public : une approche de modélisation à composants hiérarchiques, November 2019
Role: jury president
Place: Université Paris-Saclay / IMT Business School
Supervisor: C. Balagué
(18) C. Lambert, Innover en métier traditionnel : Une approche multiniveau à travers le cas des entreprises du paysage, June 2019
Role: rapporteur
Place: University of Caen
Supervisor: A. Tellier
(17) N. Moratal Ferrando, The Role of Large Research Infrastructures in Scientific Creativity. A User-Level Analysis in the Cases of a Biological Database and a Synchrotron, February 2019
Role: examiner
Place: University of Strasbourg
Supervisor: S. Wolff
(16) A. El Guellaa, Analyse multidimensionnelle des facteurs d'échec du processus de gestion des connaissances dans une entreprise : cas d'une ESN (SSII), December 2018
Role: supervisor
Place: Université Paris-Saclay / UVSQ
(15) F. Shuwaikh, Key-Drivers of Innovation Success and Financial Performance in Corporate Venture Capital, December 2018
Role: examiner
Place: Université Paris-Saclay / Paris-Sud University
Supervisor: E. Dubocage

(14) M. Guérineau, Des modèles de diffusion et de transfert de l'innovation à celui de déploiement : une conceptualisation nouvelle de la phase aval des processus d'innovation des firmes multinationales, December 2017
Role: jury president
Place: Université Paris-Saclay / Ecole Polytechnique
Supervisors: F. Charue-Duboc, S. Ben Mahmoud-Jouini
(13) A. Buton, L'articulation entre modèle d'affaires et stratégies face à un changement technologique majeur – Cas des acteurs du livre numérique en France, July 2017
Role: supervisor
Place: Université Paris-Saclay / UVSQ
(12) A. Depeige, Duality And Tensions In Intra-Organizational Coopetition: Implications For Knowledge Exploration, Exploitation and Retention Dynamics, December 2016
Role: jury president
Place: Université Paris-Saclay / Université d'Evry Val-d'Essonne
Supervisor: A. D'Andria
(11) L. Moreiro, L'appropriation d'une technologie peut-elle entraîner le développement d'une compétence distribuée entre l'homme et la technologie ? Le cas de la viticulture de précision, November 2016
Role: jury president
Place: Université Paris-Saclay / Paris-Sud University
Supervisor: F. Durieux
(10) Y. Rakotondravoavy, Convergences et tensions autour d'un artefact cognitif : étude longitudinale de l'usage du business model dans les partenariats public – privé de R&D, September 2016
Role: supervisor
Place: Université Paris-Saclay / UVSQ
(9) M.T. Kadji Ngassam, Pérennité des business models des projets collaboratifs et communautaires ouverts : cas des projets et communautés open source / logiciel libre, June 2015
Role: supervisor
Place: UVSQ
(8) J. Boumrar, Les spécificités des coopérations et de leurs modalités de mise en œuvre dans le cas de la construction et de la gestion simultanées d'un risque hybride et potentiel : une étude empirique exploratoire sur le terrorisme biologique, January 2013
Role: supervisor
Place: UVSQ
(7) S. Lawson-Drackey, Un renouvellement du cadre d'analyse de la valeur des brevets : une approche par la cartographie cognitive, January 2013
Role: rapporteur
Place: Université Lumière Lyon 2
Supervisor: C. Le Bas
(6) K. Mouakhar, L'influence des pressions institutionnelles sur le comportement stratégique des entreprises – Une taxonomie empirique des business models des sociétés de services en logiciels libres francophones, December 2012
Role: rapporteur
Place: University of Caen
Supervisor: A. Tellier
(5) P. Davidson, Les stratégies d'innovation des entreprises dans les industries basées sur les standards, December 2010
Role: rapporteur
Place: University of Nice
Supervisor: P. Véry
(4) M.A. Bah, Fonctions du brevet et stratégies d'agents : matériaux pour une économie des systèmes sectoriels de brevets, November 2009
Role: rapporteur
Place: Université Lumière Lyon 2
Supervisor: C. Le Bas
(3) R. Taha, La contribution du système d'information à l'innovation organisationnelle : une analyse qualitative des grandes entreprises, November 2008
Role: examiner
Place: UVSQ
Supervisor: P. Hermel
(2) B. Boubaker, Coévolution des TIC et de l'organisation des entreprises hôtelières en France, April 2008
Role: examiner
Place: UVSQ
Supervisor: A. Bartoli
(1) S. Colasse-Alves, Rôle des tuteurs dans les formations alternées et évaluation des compétences, January 2007
Role: jury president
Place: UVSQ
Supervisor: A. Kokosowski