Introduction
This website has been designed by Pascal Corbel on the basis of a template from HTML5 Templates Dreamveaver.com.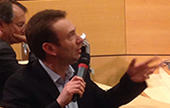 Internal resources
See the website map.
Terms of use
---
This website has been designed as an "hypertext CV ". Therefore, it does not contain much content that can be reused directly.
The summary sheets of publications can be partially reproduced by not entirely without the author's consent. Copyrights attached to the original full-text publications must be respected as well as external content pointed by the website.
The template is ruled by HTML5 Templates Dreamveaver.com terms of use.
News
No recent change in the conditions of use of the website.
External resources
For another form of résumé: see LinkedIn.
Pascal Corbel's website: innovation-strategie.fr, with its associated blog and the Twitter feed for commented news.