Introduction
In the field of management sciences, research and consulting have been linked for a long time. Indeed, action-research methodologies have been conceptualized, and are widely used to produce robust but also actionable knowledge.
In such a case, consulting interventions and research are conducted simultaneously. But consulting activities may also be conducted independently, especially when confidentiality constraints prevent any publications or when efficiency predominates on the methodological discipline of research. But even in such a case, resorting to researchers has sense only if they rely on their research results to propose an original approach to problems.
This is of course what I intend to do. This is why my consulting activities are focused on the management of innovation, and especially on a strategic and integrated approach of innovation processes and intellectual property.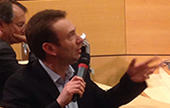 Internal resources
An entry is devoted to my research activities.
Beyond consulting services in the narrow sense, I have also achieved specific studies for various organisations. A specific entry is dedicated to those studies.
Finally, professional training activities have often close relationships with consulting.
Consulting activities
---
Main interventions
Ademe : support to the management of experts - with M. Bouilleau & F. Fort, RIST-group (2020)
=> Diagnosis on the basis of 50 interview accounts (and a few additional specific interviews)
=> Set of recommendations on the management of experts
Picarré : implementation of an IP diagnosis (2012)
=> Traning of Picarré's team on the strategic approach of IP
=> Co-design of a diagnosis methodology linking the general strategy of a firm to their IP strategy
=> 5 diagnoses made with Picarré's team on SMEs from Wallonia
Ad-hoc interventions
Safran : support to a reflection on open innovation of a workgroup in a « Experts Safran International » RIST programme (2015)
Essilor : participation to a seminar of the intellectual property team on IP performance measurement and the implementation of indicators (2009)
News
No news in this field.
External resources
I am associated to the RIST network that includes both academics, consultants, and executives to propose original services in the field of the management of researchers, R&D and innovation.